Yes, I had flown over it but…forgotten.
Mucho gracias.

Stephan, I am having the following issues with your firmware,
5 button does not work, it shows button presses in the serial monitor however the track does not advance forward.

Can I have it auto-play when the card is scanned? Currently i have to press play.
You most likely don't have the sd card setup correctly. Normally it does of course autoplay by default, there is no option to change that.
folders labeled 01, 02, 03, etc.
tracks are labeled 001, 002, 003 etc.
Does not auto play. i have to push play after the light on the arduino turns back on after scanning the card.
apart from it not auto playing and not skiping songs everything else seams to work great.
Are you using the PCB from Thorsten? Can you check the busy Pin connection? Can you please post console output? Did you run through both #hardware FAQ and #software FAQ? Especially check for the TX Pin to sd card slot shortage (linked in hardware faq). Use deepl for translation.
Have you got the folders advert and mp3 on sd-card too. They are necessaires for correctly function too.
While this is true of course, he most likely has them, otherwise he would not have been able to link a single card to a folder… And if he'd do this with an app to something else, for pure playback they are not required. So this can't be the issue here.
if i use the original tonUINO code everything works properly. however i was unable to find english audio prompts for the original.
if i use stephan's code with the english sd catd files he provided i have issues with the 5 button and music wont auto play.
TonUINO JUKEBOX
by Thorsten Voß
Stephan Eisfeld
and many others
---------------
flashed
  Mar 23 2020
  09:33:46
prefs read
  v1
prefs migrate
  -
init nfc
Firmware Version: 0x92 = v2.0
init mp3
   start 15
     max 25
    menu 15
      eq normal
   files rx timeout error
0
init 5 buttons
init 10m timer
ready
read ul|nt ok 13 37 B3 47 01 01 02 00 00 00 00 00 00 00 00 00
rx timeout error
album-1-1/0
read ul|nt ok 13 37 B3 47 01 01 02 00 00 00 00 00 00 00 00 00
rx timeout error
album-1-1/0
play
volume 16
volume 15
next
prev
The software is not getting replies from the DFPlayer. That is why it is not working. Please check for a short to GND (the sd-card slot) on that pin of the DFPlayer: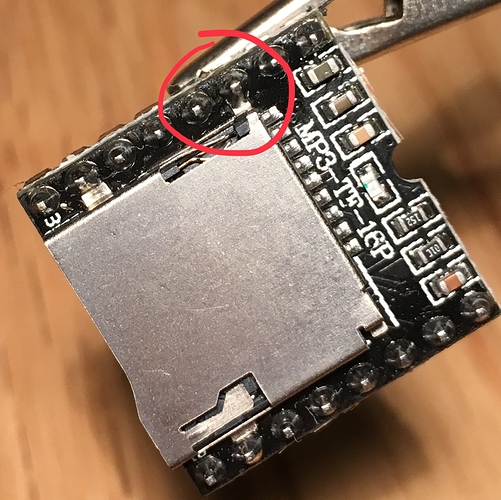 Thanks that appears to be the issue! i swapped out for a new player and it worked. is the pin supposed to be shorted?
No, the pin and the card slot shouldn't be shorted.
Awesome! No there should be no connection between that pin and GND (ie. the sd-card slot). You can fix that by melting the tin and bend up the leg of the slot.
I purchased them in bulk pre-soldered. I had an extra and swapped it out. I will try to repair the other. Thanks for your help!
You are welcome mate! The issue is not very common but we have seen that a couple times here. It's also in the #hardware FAQ for that matter, but I understand that there is language barrier.

Hi, since today one of my daughters is already enjoying her Tonuino. A second one for The younger is on the way and I find it so cool that I would like to build a couple of them for a Spanish friend. I speak German and English , but I am native Spanish so I could translate the texts really quickly. Would you include this in your variant or is this multi language not part of the native Tonuino dev branch ? Cool community!!
Feel free to translate the language file to Spanish (you can send me the link via PM, if you can't do it via GitHub). You find it in my repo. When I have time I'll generate the files als update my repo.
Hi @stephan
forked your repo, added Spanish files and pushed them. You've got a pull request.
It's merged, audio files got generated with polly and are updated as well. I also completed the spanish option of the python script to support polly and google tts in addition to macOS say.
Wow, that's efficiency. TOP, thanks a lot! The audio files that you generated using Amazon polly are much better than the ones using the built in "say" speech synth in MacOS. Now there is no excuse for me to built 3 more Tonuinos, all HW apart from the speakers have been ordered… Hopefully everything will be ready before my flights in August to Spain.